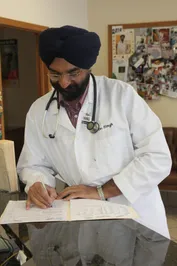 Veterinarians :

Dr. Gurdeep Singh, DVM
Dr. Singh has been practicing small animal medicine in Wisconsin since 1996. He graduated from Punjab Veterinary College, India in 1991. Dr. Singh successfully completed the Intensive Post Graduate Course in Clinical Veterinary Medicine at Animal Medical Center, New York City. He also studied at Iowa State University College of Veterinary Medicine, Ames and gained invaluable clinical experience in the field of veterinary medicine and surgery. Dr. Singh owned and practiced at Menomonee Falls Animal Hospital in Menomonee Falls, Wisconsin. After ten years, Dr. Singh established Animal Care Hospital. Dr. Singh has special interest and experience in preventive health care, geriatric health care, internal medicine, and surgery. He is a member of the American Veterinary Medical Association.
Office Manager / Assistant :
Mindy : A former Military Spouse who moved back to the area and joined the staff to get back to her veterinary roots. She is also a teacher of Biology, AP Biology and Anatomy and Physiology, currently at Wauwatosa West. In addition to those she enjoys acting, directing and costume design in her spare time. She is mom to 4 amazing kiddos, 2 dogs, a cat , multiple rats and her daughter's Amazon Parrot. She is excited to serve you and your furry family while sharing her love of science and critters.
Veterinary Assistants :.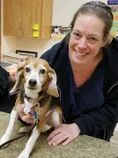 Amy : Amy is a long time member of our staff. She has volunteered at the Wisconsin Humane Society as an adoption teammate. She also led group dog training classes at Happy Hounds in Germantown. Amy attended behavioral seminars and workshops with Dr. Ian Dunbar, Brenda Aloff, and Nicole Wilde. She has two dogs Dino and Fiona
Bree : Our resident big dog whisperer, Bree is an avid animal lover, gourmet dessert artist and is now pursuing a degree in education.

Jasmine When she is not gracing our halls doting on all the cute critters Jasmine serves up some mean spike shakes in her other career. Jasmine is also a new mom to an absolutely adorable baby boy!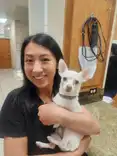 Kaonue : Assistant Manager . She is a full time animal lover, but on the side she loves fashion, make-up and beauty! Currently she has 3 dogs named Archie, Luni and Offset. When she is not in the clinic, she is enjoying her time somewhere fun with sun and loud music! She looks forward to meeting all of your friendly faces and all of your fur babies!
Martina : Martina aspires to go on to become a veterinarian. We are lucky to have her with us while she gains experience.
Miranda : Miranda is one of our resident dog lovers. She currently has 2 dogs Rowen and Simba . Also included in the household is Odin the one eyed cat. Her interests outside of the clinic include camping and travel. One day she hopes to work in wildlife rehabilitation at a wolf sanctuary. Miranda also explores her creative side with painting.
Tess : Joined our staff at the start of 2023. One of our amazing resident cat gurus, Tess has 4 cats to love at home : Oliver, Felix, Finnely, and Mazie. Also include in her home zoo is an adorable ferret named Otis. Tess dreams of one day owning and running her own feline sanctuary.
CFO : Chief Feline Officer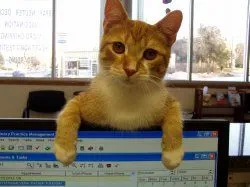 Chief : Chief is a very tough boss to work for. His day usually consists of sitting on top of the printer and dealing in customer relations such as door greeting and purse hunting. His favorite past time is chasing the laser light and playing with all the small dogs that come to visit him. He does have a "touch at your own risk" personality.